In this release:
New Setup Options
Enhanced Accountant Portal
Navigation Changes
Reports enhancements
Inviting Vendors
In the Pipeline: More Workflow Options
New Setup Options
When adding a new company, you'll see that you get two choices to complete the setup process. When time is of the essence, you can select Quick Start and just connect to your QuickBooks company and your bank account – which is all you really need to get started paying bills. The other option is Complete Setup which guides you through the Quick Start steps, plus allows you to add users in their appropriate roles, set your workflow preference, begin the vendor onboarding process, and set a couple of other options. This ensures Circulus is setup optimally for your company.
Enhanced Accountant Portal
We've made working with you accountant or bookkeeper even easier! You now have the ability to add your external accountant as a separate user and designate their permissions. And don't worry, this user doesn't count against your user count. Click here to read more about the Circulus Accountant Program
Navigation Changes
Bottom line here: fewer buttons and streamlined actions. For seldom used actions like "back" and "delete" you'll see them moved towards the top of some screens:

You'll also notice some subtle things like Bill# and Vendor being in their own separate columns in tables:

Reports Enhancements
First, we consolidated the Reports menu into 4 categories: Bills, Expenses, Payees, and AP Aging. Yes, we added reports for expenses! For the Bill Payments and Expense Payments reports, we've added Vendor/Payee as an advanced search item. This allows you to now run reports using a date range, for a specific vendor.

Lastly, we've added totals to all reports like the Bill Payments report.
Inviting Vendors
Managing how and when vendors get invited just got a little easier. First, we removed the option in Company Settings, and instead made this a function you can control by vendor, or group of vendors. What this means is that you can send a one-time invitation, or an invite every 10 days until they are setup for ACH.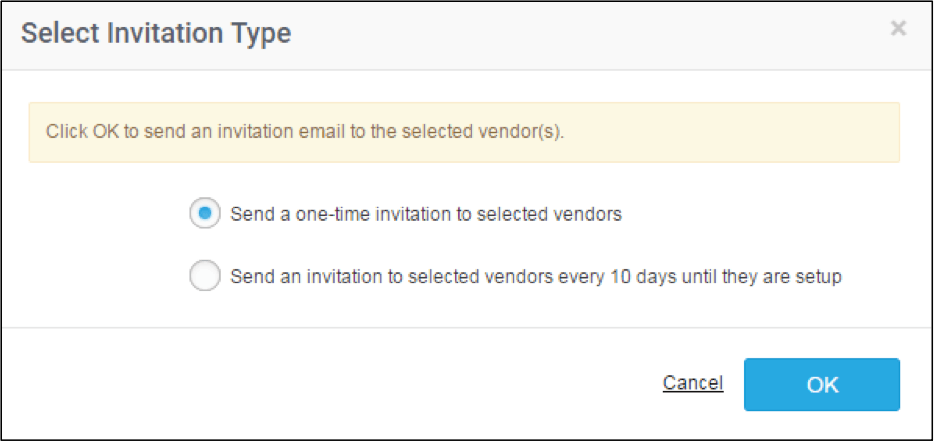 Don't worry, you still have the ability to suppress the invitations the same way – per vendor or as a group.
Tip: Don't forget to add your logo to your vendor email invitations to customize them.
In the Pipeline: More Workflow Options
As we continue to collect feedback from you, accountants, and bookkeepers, we are planning to add some more robust workflow options in our next release. This should include threshold, bypass, limit, and sequential approver options. We are not stopping there so stay tuned!