In this release:
Express Pay
Workflow Enhancements
Sub-account Listing
Bill Payments Report Enhancements
Audit Trail Improvements
Mobile App Update
Multi-factor Authentication
Express Pay
We know that sometimes there are circumstances where you need a payment expedited. We now offer the ability to expedite some payments. If your account is in good standing and passes our discretionary review, you'll be eligible to take advantage of this offering. Once enabled, this option lets you pay bills of $5,000 or less using an Express Pay option. Express Pay ACH payments ($8.99 each) are deposited on the processing date. With Express Pay Check payments ($23.99 each), checks are overnighted on the processing date and tracking numbers are provided via email. Note: Overnight checks cannot be delivered to PO Boxes and pricing includes combined payments.
Workflow Enhancements
In the last couple of releases, we've added functionality to enhance the bill/expense workflow. In this release, we are continuing to deliver enhancements in this area. Here's a list of the items now available:
On Hold – You can now place an item "on hold" in any stage of the workflow. It's also available as a toggle on screens like Approve Bills and Pay Bills. It's like having a virtual "shelf" to put items on!
Draft – Ever begin data entry on a bill, and then discover you're missing one piece of information? Now you can save an item without submitting it into the workflow. This will give the item a status of "Draft"
Improved Search – We've added a few things to improve the search experience. You can now search for items that are in draft, on hold, rejected and can even filter by approver
Sequential Approvers – You can now assign approvers in sequential order
Reject Notes – Reject Notes have been added as a column to the Enter Bill Data screen to help when reviewing rejected items there. We've also added filters on this screen to make it more efficient
Sub-account Listing
While sub-accounts have always been synced from QuickBooks, it can get tricky assigning them in bills, especially when there sub-accounts with similar names. Now they are displayed in indented format like they are in QuickBooks: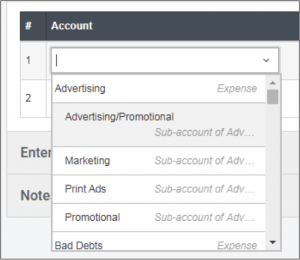 Bill Payments Report Enhancements
For the Bill Payments and Expense Payments reports, we've added the ability to search by bank draft. This allows you to use the bank draft date and amount to locate a specific batch of bills, based on the bank draft. All available to print and export.
Audit Trail Enhancements
For bill/expense audit trails, actions that were taken (Approve, Reject, Paid, etc) will display instead of "Edited" and for payment audit trails, the check number (when applicable) will be included.
Mobile App Update
It's the little things in life, right? The mobile app now has "Remember me" functionality that lets you skip typing in your email each time you login.
Multi-factor Authentication
In order to stay current with our security certifications and maintain our high standards of data security, Circulus will now require you to verify your account. This occurs if you log in using a different browser, log in from a different computer, or clear your browser's cache. You'll be emailed a code to enter, so make sure you have access to email should you find yourself in one of the scenarios above.
Billing Changes (coming soon)
Good news! Over the next few weeks we will begin migrating off credit card billing and instead move to ACH. This mean you'll be able to pay your Circulus bill just like any other, via check or ACH. Don't worry, we'll setup the Circulus vendor for you, along with the banking info. We will even be entering the bill for you! More to come on this, so keep an eye out for an email from us soon.