First Requirement: A Hyper-Competitive Salary
A recent article in the industry publication IT Business Edge says, "Technology professionals appear to be taking advantage of the positive job market, with pros more often waiting for the right position and the right pay." And the research seems to bear that out:
People employed in the STEM category (science, technology, engineering and mathematics) now earn 26% more than their non-STEM counterparts – regardless of education or degrees.
61% of recruiters and hiring managers say more tech candidates are demanding higher salaries than what's offered to them. And when the company can't deliver, 32% say the candidate rejects the job offer.
The result: Almost 60% of companies report that open positions are currently going unfilled because they aren't able to meet the high salary requirements demanded by tech candidates.
In a balanced employer-employee job market, applicants who hold out for higher pay are usually passed over for more eager candidates. But in a candidate-driven ecosystem like now, many employers recognize that remaining competitive requires raising their salary expectations.
Rapid Raises are Good, Too
Another budding trend has been to provide tech workers with raises and bonuses more than once-a-year. Currently, only 5% of companies offer this new pay perk, and the results appear to be mixed. At Zulily, employees are eligible for pay raises every quarter, and Chief Executive Darrell Cavens told the Wall St. Journal he would offer it even more often if he could. "The raises make a lot of extra work for managers, but employees stay focused on the company, since the next payoff is just around the corner."
However a recent research study shows that the impact of a 10% pay raise is often short-lived, and very limited in its ability to make an employee less likely to quit. Plus, compensation experts say setting the expectation of rapid raises and bonuses could be dangerous if you don't think your company can continue it long-term. For the time being, this appears to be a micro-trend, but if the pool of IT talent remains limited while demand surges, the tactic could become more widespread.
A Potential Trade-off: A Great Workplace for Slightly Less Money
Closely tied to salary is work environment. If the company has a reputation for giving technology workers the freedom, challenge and opportunity they desire, it can often get away with paying less. But achieving that balance is something only the biggest and brightest companies seem equipped to achieve. Some pay
disparity can be offset by the perks those companies are famous for providing their employees. But the work environment – more specifically, the opportunity to work on innovative new products and services – seems to be true motivator.
Technology workers want to put their skills and experience to work on challenging new endeavors, so they're highly attracted to the companies with reputations for providing those opportunities, and they're willing to accept a lower salary in return. Robert Hohman, the chief executive of Glassdoor.com explains it this way: "Innovation has as much to do with whether to take a job as does pay," which means, "Companies with extremely strong brands don't have to pay top dollar. The brand works for them. "
Company Location: A Big Advantage (or Disadvantage)
Where a company is located also has a big impact on the type and quality of technology worker it can recruit. However, the cities that currently rank as having the biggest advantage may surprise you. According to the research, the city that a tech worker will be most attracted to also depends on the person. While the young IT guns are still attracted to the traditional and trendy high-tech employment centers of San Francisco / Oakland / San Jose / Sunnyvale / Santa Clara, and Seattle, older, more experienced tech workers with families want to work in areas of the country with better livability and affordability rankings.
Factors that are making a difference include: a diversity of technology employers (not just one primary tech company), a cohort of other technology workers, nearby college / college town with a strong technology program, trendiness (modern restaurants, events and activities), the presence of manufacturers, affordable housing, expanding suburbs (with manageable commutes), stable micro economy, low taxes, and a low cost of living.
A 2015 SmartAsset study found that, between 2013 and 2014, these 10 cities have attracted the most technology workers (listed in order):
1: Omaha, Nebraska 6: Lynchburg, Virginia
2: Huntsville, Alabama 7: Des Moines, Iowa
3: Springfield, Illinois 8: Columbus, Ohio
4: Fort Worth, Texas 9: Houston, Texas
5: Rochester, Minnesota 10: St. Louis, Missouri
While these areas have experienced impressive industry growth since 2013, other major cities are poised to disrupt the historical dominance of Silicon Valley even further. Take for example, areas such as Indianapolis, which has emerged as an ideal city for young professionals looking for an affordable home and a strong work/life balance. The city boasts three Fortune 500 companies, as well as a number of major sporting events.
Packing on the Perks
In-demand tech workers have come to also expect a special package of perks. In addition to the list of non-traditional benefits for which technology companies have become famous (free drinks, food and even dry-cleaning have become standard), tech company employment perks such as bonus programs, stock purchase plans and even reimbursement for personal expenses while traveling are outpacing their non-technology counterparts.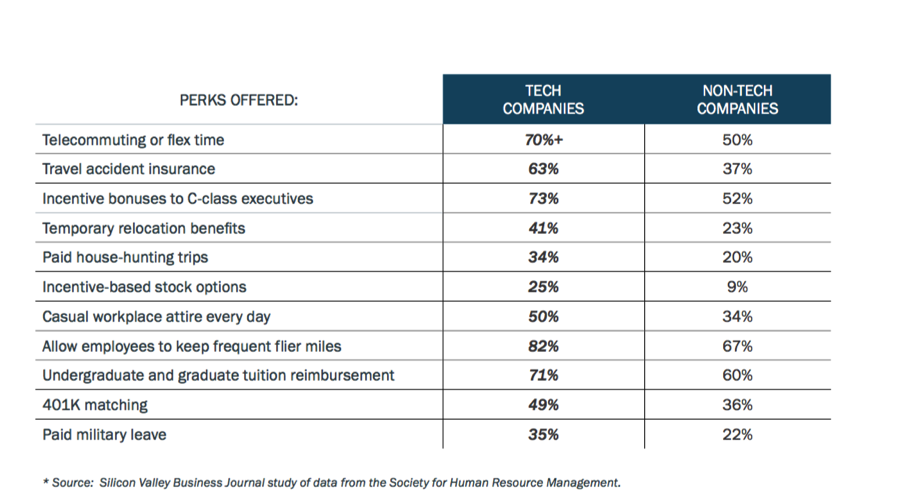 Companies
The perk examples included above are focused on the technology industry, but that doesn't mean traditional companies need not take notice. On the contrary. IT workers move between the traditional and tech worlds, so employers offering standard and traditional perks may find themselves struggling to sell their brand to candidates and land leading talent. And any benefits that are considered unique and implemented throughout an organization will need to be offered in a way that doesn't alienate non-tech workers.